Creating a Regional Entertainment Destination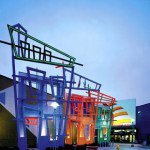 Project: Arundel Mills Mall
Goal: Client sought to assemble properties and to obtain development approvals for a regional shopping/entertainment destination.
Strategy: The Mills Corporation contracted to buy approximately 400 acres located at the corner of MD 100 and the Baltimore Washington Parkway to build a regional mall with various outparcels for compatible development. The primary zoning on the property was industrial, which did not allow a shopping center. In addition, the community was not supportive of any retail zoning for the property. After working with the County administration and with the community, Hyatt & Weber helped to get legislation passed which allowed a regional commercial complex that could include a large regional mall and any use permitted in the industrial and commercial zones. As a result, 2.5 million square feet were approved for the Arundel Mills Regional Commercial Complex. Throughout the planning process, subdivision of the property, issuance of grading and building permits, and construction of the Arundel Mills Mall, legal services and advice were required. Hyatt & Weber continues to represent the new owner, the Simon Companies, as it completes the development on the property. Arundel Mills was one of the most successful malls in the Mills Corporation's portfolio, which is now part of the Simon Companies.
Results: Arundel Mills Mall, with 17 anchors, over 225 specialty stores, themed restaurants and entertainment, is a thriving shopping and employment center in Anne Arundel County, MD.